Jurassic World: Dominion Dominates Fandom Wikis - The Loop
Play Sound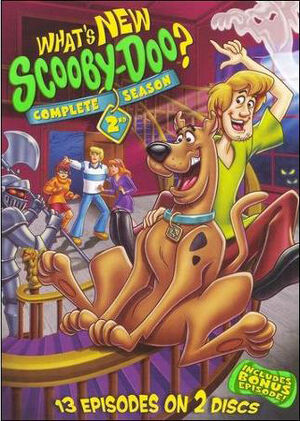 Season 2 of What's New, Scooby-Doo? debuted on The WB's Kids' WB programming block from September 13, 2003 to March 27, 2004.
Cast
Recurring characters
Episode list: 2003-2004
Image
Title
Number
Airdate
Suspects
Culprits
Monsters
Big Appetite in Little Tokyo
1
September 13, 2003
Shaggy Rogers, Elliott Blender
Prof. Pomfrit and Dogbot
30 Foot Shaggy
After eating a cursed pizza, Shaggy starts to grow into a Godzilla-like monster whenever he goes to sleep, and he starts eating everything in sight. Now the gang are running around Tokyo trying to get away from the police who want to capture Shaggy.
Mummy Scares Best
2
September 20, 2003
Camel Sam, Madamoiselle Chantal
Melbourne O'Reilly hypnotized by Qasl Al-Famir
Mummy of Pharaoh Scamses
While in Egypt on an archeological dig with Melbourne O'Reilly, the gang encounters Pharaoh Scamses XV - a mummy who has a knack of turning tourists into zombie minions. Even worse for the gang is the fact that they are in danger of being turned into zombies themselves.
The Fast and the Wormious
3
September 27, 2003
Wor-El, Burr Batson, Roberto Torres, Gibby Norton, Lupe Chesares
Gibby Norton
Gusano Grande
After Fred decides to try his hand at cross-country racing, the gang is stuck with a giant worm, its fanatical worshipers and a racer who would resort to anything to win the race.
High-Tech House of Horrors
4
October 4, 2003
Laslow Ostwald, Bobby Blather, Billy Blather, Horatio Hidalgo
Shari
Super Home of Artificial Robotic Intelligence, Jeeves
The gang ends up going to a future fair; however, the House of the Future is closed due to the mysterious disappearance of a teenager. The creator of the house, Professor Laslow Ostwald, tells the gang that nothing is wrong; however, after Daphne disappears the gang has to go back to the house and are soon being chased by a robot butler.
The Vampire Strikes Back
5
October 18, 2003
Dusk, Wrenchfield, J.J. Hakimoto
Steve and Stu Fortescu
Vampire
The gang travels to an old Transylvanian castle on a rainy night to watch the shoot of the Hex Girls' new music video Wanna Wed, But I Fled. But when they get there, they find out that the band is breaking up, since there's a vampire on the loose. Fred decides to go straight to trapping the vampire. They do so, only to discover there's another vampire lurking around. It's up to Scooby and the gang to solve the mystery and prevent the Hex Girls from breaking up.
A Scooby-Doo Halloween
6
October 24, 2003
Eldon Reed, Agnes, Marcy
Marcy
Scarecrow Robots, Ghost of Hank Banning
The gang goes to Banning Junction to visit Velma's uncle and aunt for Halloween, but they meet the ghostly scarecrows who try to ruin the festivities. Hopefully they can save the town before the Ghost of Hank Banning shows up.
Homeward Hound
7
October 25, 2003
Sylvie, Meadow
Meadow, Skull, Scar, M'Lady Moonbeam
Cat Creature
After the gang votes on their destination they end up at the annual dog show courtesy of Scooby. There Shaggy runs into an old acquaintance Meadow and her dog, M'Lady Moonbeam. However, the gang then has an unpleasant run-in with a cat creature who seems bent on ruining the dog-show and stealing the puppies of former winner dog, Crissie.
The San Franpsycho
8
March 20, 2004
Rutie Banez, Haze Ferlinguini, Julian Libris
Rutie Banez
San Franpsycho
The gang goes to the Grind Games in San Francisco to meet an old friend who is participating. However, they soon find out that the games are being terrorized by a former Alcatraz inmate, the San Franpsycho.
Simple Plan and the Invisible Madman
9
March 22, 2004
Zeke Zillion, Jack Hunter, Eve De La Faye, Gibby Norton
Zeke Zillion, Jack Hunter, Eve De La Faye, and Gibby Norton
Invisible Madman
On route to a rock festival, the gang runs into Simple Plan. As both their vans are wrecked they have to spend the night at a nearby ghost town. And worse yet it soon becomes obvious that something invisible is out to get Simple Plan.
Recipe for Disaster
10
March 23, 2004
Moss T. Meister, Trudy Lowe, Ernest Bailey, Penelope Bailey
Penelope Bailey
Scooby Snack Monster
After Shaggy wins a trip to the Scooby Snacks Factory, the gang prepares for a well deserved holiday. Unfortunately there is very high security in the factory due to spies and worst of all the ghost of a former employee who died in the Scooby Snacks paste vat is lurking in the shadows.
Large Dragon at Large
11
March 24, 2004
Ewan McEwan, Shane Flinty
Jamison Steven Ripley
Glasburgh Dragon
In the middle of a Renaissance fair in Scotland, a giant, mysterious dragon starts terrorizing everyone.
Uncle Scooby and Antarctica
12
March 25, 2004
Corvina Cloyd, Linda Rauch
Monroe Hopper
Fish creature
While trying to bring a penguin named Little Pete back to Antarctica, the gang stumbles upon a creature that had imprisoned the man under the ice who could locate the penguins.
New Mexico, Old Monster
13
March 26, 2004
Avery Orenthal, Cody Long, Shaman
Col. Henry Thornwald
Wakumi
An ancient bird kidnaps locals from a Native American reservation in New Mexico, where Shaggy, Scooby, and the gang visits Shaggy's old friend, Jimmy Proudwolf and his dog, Shooby. Shaggy is about to enter a contest with a sculpture he made of Scooby's head, but the bird steals it, right before kidnapping Daphne.
It's All Greek to Scooby
14
March 27, 2004
Major Portsmouth, Scary-looking man
Susie Smythe
Centaur
Whilst vacationing in Greece, Shaggy's purchase of a mysterious amulet only serve to cause a pestering archaeologist and centaur to chase him.
External links