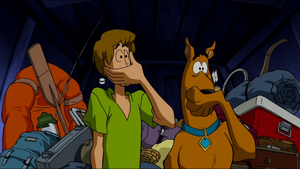 I do what I do because someone has to do it. If you don't like what I do, then quite frankly, I don't care. You think this is the only Scooby-Doo site on the internet? Well, it's not. Ignorance, even after you've been told you've been doing something wrong, will not be tolerated. You can be rude and throw insults, but that will not get you anywhere. If this wiki doesn't cater to the needs of you, then go to https://scooby-doo.fandom.com/ (who wants to beat us, or taken it upon themselves to take it personally and therefore beat me, which they're doing a splendid job at. Not), where you can do what you want, how you want it, and no one will ever question you. You can even insult me with other like minded individuals, and get away with it. You can thank Sannse for that, who will allow you to virtually say anything you want about someone and get away with it. Ain't that grand?
Some of you don't check your message wall after I send you a message (some of you don't know how to use it, you must be able to see the alert button that appears on the black bell image in the right hand corner of the screen). If you haven't followed with what I've said then you haven't seen it or have seen it and just ignoring me out of spite (or whatever). So, I will probably ban you to get your attention. Don't take this with a defeatist attitude (because you have to wait for the allotted time to end). Just tell me you've seen it, understand it, then I can lift the ban as quick as possible.
Blog
A blog about my treatment on Scooby Addicts.[1]
Scooby-Doo! and the Curse of the 13th Ghost/Scooby-Doo! Return to Zombie Island
These films have so many unnecessary problems, I don't know why WB even bothered.
UK order
Times Daphne drove before Moon Monster Madness
It's Mean, It's Green, It's the Mystery Machine credits
Opening
Closing
Producer: George Doty IV
Series Story Editors: George Doty IV, Jim Krieg, Ed Scharlach
Series Directors: Russell Calabrese, Tim Maltby, Tom Mazzocco, Swinton Scott, Joe Sichta
Music By: Gigi Meroni & Rich Dickerson
"What's New, Scooby-Doo?" Theme

Written By: Rich Dickerson & Gigi Meroni
Performed By: Simple Plan
Courtesy Of: Lava Records
www.lavarecords.com

"2 Cute 2 4-Get"
"I'd Do Anything"
Casting & Voice Direction: Collette Sunderman
Starring the Voices Of: Mindy Cohn as Velma, Grey DeLisle as Daphne, Roger Rose as Narrator & Policeman, Kath Soucie as Susan Dinwiddie, Beng Spies as Murph & Randy Dinwiddie, Larc Spies as Any, Lauren Tom as Mandy
Based Upon Characters Created By: Hanna-Barbera Productions
Main Title Design: Sandra Frame, James Fujii, Scott Jeralds, Chris Rutkowski, Chuck Sheetz
Main Title Animation: Lotto Animation
Creative Consultant: Iwao Takamoto
Storyboard: Sandra Frame, Mary Hanley, Jim Shellhorn
Animation Timing Directors: Cullen Blaine, Mark Bykov, Herb Moore, Pat Shinagawa
Character Design: Scott Awley, Scott Jeralds
BG Paint: Shahen Jordan, Tristin Roesch-Cole
Prop Design: Mark Bachand, Scott Hill
BG Design: Edgar Carlos, Robert Harand, Bill Proctor
Assistant Production Managers: Vera Morales, AJ Vargas
Production Coordinators: Jessica Dalton, Judge Plummer
Ink and Paint Supervisor: Geno DuBois
Color Key: Lisa Redondo
Mark-Up/Painters: Kim Bowen, Eric Nordberg, Bill Ohanesian
Animation Checking: Jan Browning, Susan Burke, Eleanor Dahlen, Chuck Gefre, Karl Jacobs, Chuck Martin, Kathleen O'Mara
Director of Post Production: Tim Iverson
Post Production Supervisor: Bonnie Buckner
Post Production Coordinator: Michael Miscio
Film Editor: Susan Edmunson
Director of Technical Operations: Bradford H. Keatts
Assistant Production Manager of Technical Operations: John Voralik
Supervising Online Editor: Bradford H. Keatts
Online Editor: Tony Tedford
Supervising Dialogue/ADR Editor: Mark A. Keatts
Supervising Recording Engineer: Edwin O. Collins
Recording Machine Operator: Jeff O. Collins
Recording Facility: Warner Bros. Animation
Dialogue/ADR Editors: Kelly Ann Foley, Kerry Iverson, Mark Keefer
Sound Reading: Carol Iverson, Fred Salinas, Denise Whitfield
Post Production Sound Services: Glenwood Editorial, Inc.
Re-Recording Studio: Glenwood Place Studios
Sound Effects Supervisor: Glen Oyabe
Re-Recording Mixers: Brad Brock, Timothy Garrity
Engineer: Kennie Takahashi
Animation Services: Lotto Animation
Animation Directors: Young-Hoon Kim, Young-Oh Shin
Model Checkers: Eun-Ha Kim, Yei-Jin Lee
Key Animation: Hyun-Joo Ahn, Jun-Young Chio, Mee-Hui Kim, Kyung-Ae Min
Layout: Jung-Won Kwon, Suk-Won Lee, Jong-Dae Lim
Inbetween Checkers: Jung-Sook Kim, Chang-Sook Oh
Ink & Paint Checker: Mi-Hyun Jie
Final Checker: Ho-Soon Shin
Editing: Hyoung-Jun Park
Background: Yeon-Hee Kim, Eun-Hee Noh
Camera: Kyun-Won Lee, Hye-Won Suh
Production Staff: Mi-Ok Kweon, Hoon Yoe
Production Administrators: Tammy Davis, Michael Diaz, Marci Gray, Laura Marquez, Jacqueline Olsommer, Mary Parkinson, Amy E. Wagner
Casting Administrator: Liz Carroll
Production Accounting: Athena Christianakis, Luisa Guzman, Rose Mesa, Maria Womack
Business and Legal Affairs: Debi Dean, Michael Lalla, Bonnie Negrete, Peter Steckelman
Production Supervision: Toshi Hiruma, Howard Schwartz
Development and Creative Supervision: Christopher Keenan, Linda Steiner
Production Management: Andy Lewis
Executive Producers: Joseph Barbera, Sander Schwartz
Special Thanks To: Joe Ruby & Ken Spears
Warner Bros. Animation
This motion picture is protected under the laws of the United States of America and other countries. Any unauthorized, duplication, copying, distribution, exhibition or use may result in civil and/or criminal prosecution.
Dolby Surround
©2002 Hanna-Barbera Cartoons, Inc.
All Rights Reserved
Country of first publication United States of America
Warner Bros. is the author of this film/motion picture for the purposes of Article (15)2 of the Berne Convention and all national laws given effect thereto.
Warner Bros. Animation
www.warnerbros.com
Community content is available under
CC-BY-SA
unless otherwise noted.