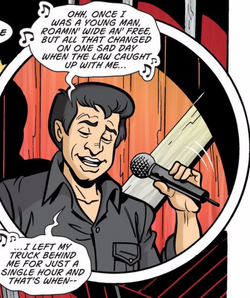 "Tulsa Jailhouse Blues" is a song written and performed by country music singer, Jimmy Pesos. It is one of his biggest hits.
Lyrics
Ohh, once I was a young man,
roamin' wide an' free,
but all that changed one sad day
when the law caught up with me...

...I left my truck behind me for just a single hour
and that's when-- [song is cut off]
History
Early history
Jimmy was inspired to write the song after getting a parking ticket in Tulsa.
Scooby-Doo, Where Are You? (DC Comics)
As he began performing at charity fundraiser at the Great American Opry House, he was interrupted by the Phantom of the Opry.
Performances
Community content is available under
CC-BY-SA
unless otherwise noted.