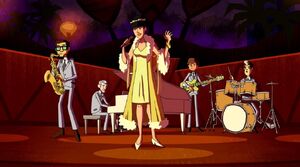 "The Words Get Stuck In My Throat" is the signature song of Trini Lee, performed at the Tiki Tub.
Lyrics
If lips could only say the pretty words,
That I feel in my heart.
If my voice could make the sound,
I would tell you how I love you.
And we'd never be apart.
Love was just one look into your face,
My mind starts to drift right into space,
And the words get stuck in my throat,
And the words get stuck in my throat...
History
Scooby-Doo! Mystery Incorporated
Season one
She swooned the patrons right before the Green Humungonaut attacked.
Angel Dynamite also promoted the song at K-Ghoul.[1]
Season two
During another performance, the Rude Boy and the Ska-Tastics invaded.[2]
Performances
Notes/trivia
Due to the fact that the episode in which the song debuted in, Battle of the Humungonauts, was a massive reference/homage to War of the Gargantuas, the song was also first performed for that film.
References
Community content is available under
CC-BY-SA
unless otherwise noted.