This needs a stretch. (Feel free to remove when satisfied of completion.)
Needed: History.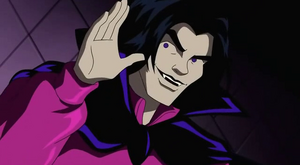 "The Vampires Dance" is a song of the Fangenschanz group.
Lyrics
Bram: What's that
You hear
The sound
Of fear
Because
They're here
Vampires roaming in the night
What's that
You say
Can't be
No way
They're fake
Okay
Believe whatever you might
But when the is moon is full on a starlite night
You best all lock your doors up tight
Because my friend the vampire start to dance

Fangenschanz: They're all around you
Everybody's coming play
Oh yes they found you
And now they're gonna take you away-ay-ay

Bram: So watch out
Take care
Be smart
Beware
Because
Out there
Something's waiting for you
When midnight comes it's time to hide
Say good night and run inside
Is that my friend is when
They all come out again
Oh yes right now is when
The vampires dance

Fangenschanz: The vampires dance
Boo!
History
Scooby-Doo! Music of the Vampire
Insert details here.
Performances
Notes/trivia
This is the third of ten songs in the film.
Real-world credits
Community content is available under
CC-BY-SA
unless otherwise noted.