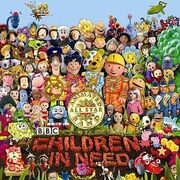 "The Official BBC Children in Need Medley" is a 2009 charity single released in support of the UK charity BBC Children in Need. The song is a medley of multiple songs - "Can You Feel It" by The Jacksons, "Don't Stop" by Fleetwood Mac, "Jai Ho" by A.R. Rahman and The Pussycat Dolls, "Tubthumbing" by Chumbawamba, "Never Forget" by Take That, "Hey Jude" by The Beatles and "One Day Like This" by Elbow - performed by Peter Kay's Animated All-Star Band. The actual performers are the voice actors of many popular and classic UK, European and American cartoons and puppet shows.
Scooby-Doo involvement
Both Frank Welker and Casey Kasem provide vocals on the song in their respective roles of Scooby-Doo and Shaggy Rogers, particularly during the "Don't Stop" by Fleetwood Mac section of the song.
In the music video, which is a parody of charity music videos such as Band Aid's "Do They Know It's Christmas" or USA For Africa's "We Are The World" in which a group of performers gather in a recording studio to perform the song, Scooby-Doo and Shaggy appear 'Live via Satellite' as they are cartoon characters in the puppet world and thus can't appear 'in person'.
Notes/trivia
Casey Kasem only agreed to take part if Shaggy was shown to be a vegetarian and asked not to be given credit, despite the fact there's little to no reference to this and nobody in the song is actually credited.
The song was released in November 2009 and was Number 1 on the UK Singles Charts for two weeks. It also reached Number 5 on the European Hot 100.
The song had raised £170,000 for BBC Children in Need by December 2009.
Every performer on the song is the character's original voice actor. The only exceptions are Scooby-Doo as Don Messick died in 1997, and Paddington Bear, whose original voice actor Michael Hordern died in 1995.
Community content is available under
CC-BY-SA
unless otherwise noted.