Cobra Kai Season 4 - The Loop
Play Sound
"The New Scooby-Doo Mysteries" is the name of the theme song for the TV series of the same name. It is done in a style reminiscent of Michael Jackson's "Thriller" music video, in particular the monsters of the former doing a similar dance as in Jackson's video.
The theme was featured on the 1998 soundtrack, Scooby-Doo's Snack Tracks: The Ultimate Collection.
Lyrics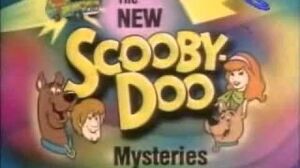 Scooby-Dooby-Doo, looking for you
Whoo! Scooby-Doo, where are you?
Shaggy & Daphne: Come on Scooby, where you been?
Shaggy: Trouble's on the loose again

(Scooby)
They're not gonna get ya
(Scooby-Doo)
Uh-uh, Scrappy's gonna help ya
(Scooby)
Ooh, Shaggy's gonna be there
(Scooby-Doo)
And Daphne too!

Scooby-Dooby-Doo, looking for you
Scooby-Dooby-Doo, where are you?
Scooby, Scooba-dee-doo, Scooby...
Scooby
Scooby-Doo
Scooby
Scooby-Doo!
Description
Fill this section with a description of what happens.