Jurassic World: Dominion Dominates Fandom Wikis - The Loop
Play Sound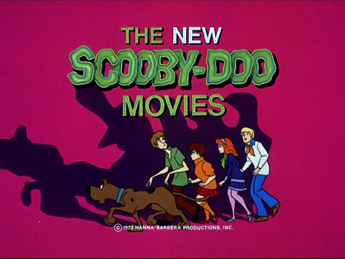 Season 2 of The New Scooby-Doo Movies aired on CBS from September 8, 1973 to October 27, 1973.
Cast
Episodes
Number
Title
Airdate
Guest stars
Suspects
Culprits
Monsters
1
The Mystery of Haunted Island
September 8, 1973
Harlem Globetrotters
N/A
Scorpions coach, trainer and owner
Hooded Ghosts
The gang meet up with the Harlem Globetrotters after the Mystery Machine runs out of gas, but they are soon embroiled in a mystery when they are tricked into going to Haunted Island where they must take shelter in a mysterious mansion and try to ensure that the Globetrotters still get to their upcoming game.
2
The Haunted Showboat
September 15, 1973
Josie and the Pussycats
Johnny Briggs, Lance Goodwin
Jack Canna as Captain Cannaby, Jack Canna's partner
Ghost of Captain Scavenger, Ghost of Injun Joe
The gang partner up with Josie and the Pussycats to renovate a derelict showboat so that it can reopen for business, however they must tangle with ghosts straight out of Mark Twain's era who claim the boat as their own.
3
Mystery in Persia
September 22, 1973
Jeannie and Babu
N/A
Abdullah
Jadal
After the Mystery Machine crashes, the gang are aided by Jeannie, her master Corey, and his friend Henry. But the gang try to repay the favor by aiding Jeannie, who must recapture an evil spirit who is targeting the Great Hajji.
4
The Spirit Spooked Sports Show
September 29, 1973
Tim Conway
Jay Teller, Mr. Griffith, Jesse Finster
Mr. Griffith's twin brother, Jesse Finster
Spirit of Fireball McPhan
The gang visit Velma's high school and agree to help coach Tim Conway, who must save the school from the ghost of a former athlete called the Spirit of Fireball McPhan in order to keep his job.
5
The Exterminator
October 6, 1973
Don Adams
Otto
Lorne Chumley, Otto
Various monsters
The gang encounter Don Adams, who is working as an exterminator, and agree to help him complete an extermination job at a famous actor's mysterious mansion.
6
The Weird Winds of Winona
October 13, 1973
Speed Buggy
P.J. Peabody
P.J. Peabody and his henchmen
Windmakers
After a getting held up in the town of Winona when the Mystery Machine is damaged in a car accident, the gang partner with Speed Buggy and the Speed Bugs in order to solve the town's inexplicable windy weather phenomena.
7
The Haunted Candy Factory
October 20, 1973
Cass Elliot
Mr. Crink
Sterling Smith as Mr. Franklin, Mr. Crink
Green Globs
The gang comes to the aid of Mama Cass Elliot, who calls for help from her candy company's building while monsters run loose inside.
8
The Haunted Carnival
October 27, 1973
Dick Van Dyke
N/A
Masked Manx
Ghostly strongman
The gang come to the aid of Dick Van Dyke, who is struggling to operate

his carnival

due to a menacing ghost that drives all the customers away.
Full credits
The following credits are how they are seen on-screen (or as close as possible).
Produced and directed by: William Hanna and Joseph Barbera
Story direction: Jean Blanchard, Bob Dranko, Jay Sarbry, Ron Campbell, Vev Risto, Howard Swift, Ernie Terrazas
Associate producers: Alex Lovy, Zoran Janjic
Voices: Nicole Jaffe, Don Messick, Casey Kasem, Heather North, Franklin Welker
Voices: Sherry Alberoni, Mike Bell, Joe Besser, Benjamin Crothers, Jerry Dexter, Robert Do Qui, Richard Elkins, Jamie Farr, Stu Gilliam, Arlene Golon, Mark Hamill, Bob Hastings, Jackie Joseph, Phil Luther, Julia McWhirter, Alan Oppenheimer, Barbara Pariot, John Stephenson, Janet Waldo, Jonathan Walmsley, Johnny Williams
Musical director: Hoyt Curtin
Musical supervisor: Paul DeKorte
Animation director: Peter Luschwitz
Production design: Iwao Takamoto
Production co-ordinator: Kirsten Hansen
Animation checking: Narelle Nixon, Louise Luschwitz, Carmel Lennon, Jolanta Pillich, Kay Self
Layout: Milton Fredlund, Chebby Badham, Andrea Bresciani, Sebastian Hurpia, Stephen Lumley, David Skinner
Animation: Stuart Barry, Susan Bleak, John Boersema, Andrea Bresciani, John Burge, Gairden Cooke, Chris Cuddington, Warwick Gilbert, Don MacKinnon, Paul McAdam, Gus McLaren, Romek Pachucki, Yvonne Pearsall, Kevin Roper, Laurie Sharpe, Robbert Smit, Gerald Wylie
Backgrounds: Richard Zaloudek, Milan Zahorsky, Sue Speer
Technical supervisor: Jerry Smith
Ink & paint supervisor: Zora Bubica
Xerography: Olga Zahorsky
Supervising film editor: Peter Addison
Film editors: Peter Jennings, Graham Whelan, Catherine MacKenzie, Ian Spruce
Negative cutting: Adina Film Services
Camera: Jerry Smith, John Cumming, Carol Laird, Peter Huiswaard, Kieran Mulgrew
A Hanna-Barbera Production
© 1973 Hanna-Barbera Productions, Inc.
a hanna-barbera production
Notes/trivia
No background music was used for the title cards.
For this season only, Frank Welker was credited by his full name of Franklin Welker.
Because this season seemed more low-key in tone, Hanna-Barbera uniquely slowed down its custom laugh track, one of the few shows made by Hanna-Barbera to do so.
Most of the season uses background music from Hanna-Barbera's shows from the mid-late 1960s, the majority of it recycled from The Magilla Gorilla Show.
While the first season was animated domestically at Hanna-Barbera's Los Angeles-based studio, the second season had the animation production farmed out to Hanna-Barbera's recently founded subsidiary in Sydney, Australia. As a result, the animation is noticeably lower-quality compared to the first season.
No background music is used when the culprits are caught.
The closing credits are blue.
Home media
See also
See also