This needs a stretch. (Feel free to remove when satisfied of completion.)
Needed: Synopsis.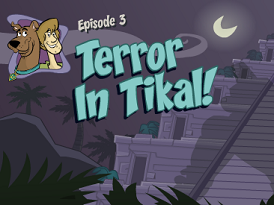 Terror in Tikal! is the third part in the four-part online computer game serial, Mayan Monster Mayhem.
Premise
Scooby-Doo and Shaggy have reached the city of Tikal, but they must navigate its maze-like streets and get up a long flight of trapped steps to reach the Temple of Lost Souls.
Synopsis
Shaggy and Scooby have slid down the mountain. They both heard creepy sounds and attempted to run away from the source, only to find out it came from a stereo system. He tried putting them away, only to realize that it's the Mayan Mayhem. The two then ran off and hid in the city of Tikal, only discovering on how to find the exit.
After going through a few puzzles, they eventually made it outside Tikal and encountered a tour guide named Carlos Morales. Although he never heard of the peppers of "El Habanero de Mucho Gusto", he actually located the Temple of Lost Souls for them. Shaggy thinks that the stairs aren't too hard, until Carlos mentioned about the stairs rigged with booby traps. The two then decided to climb up the stairs, while barely evading the booby traps and the Mayan Mayhem on the way up.
The two eventually made it to the top and upon the doors being opened, Shaggy muttered something unintelligible.
Characters
Main characters
Supporting characters:
Villains:
Other characters:
Locations
Objects
Amplifiers
Stereo
Shovel
Crowbar
Vehicles
Cast
Notes/trivia
See also
External links
Community content is available under
CC-BY-SA
unless otherwise noted.