This needs a stretch. (Feel free to remove when satisfied of completion.)
Needed: History.
The Teen Angels is the collective name for the three young women who solve mysteries with their mascot, Captain Caveman. They also joined the Scooby Doobies for the Laff-a-Lympics.
Members
History
Laff-a-Lympics
Season one
Insert details here. (The Swiss Alps and Tokyo, Japan)
Season two
Insert details here.
Laff-a-Lympics (Marvel Comics)
Insert details here.
Scooby-Doo (Marvel Comics)
Insert details here. (Mystery at Malibu)
Scooby-Doo! Mask of the Blue Falcon
There were posters of them at the Mega Mondo Pop Comic Con-A-Palooza.[1]
Appearances
Scooby-Doo! Mystery Incorporated continuity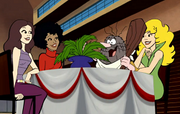 The Teen Angels and Captain Caveman attended the Mystery Solvers Club State Finals in Scooby-Doo's feverish dream.[2]
Appearances in other media
The Teen Angels also starred in their own show, Captain Caveman and the Teen Angels, produced by Hanna-Barbera for ABC, wherein they thawed the neanderthal out of a glacier and form his mystery-solving team.
References
Community content is available under
CC-BY-SA
unless otherwise noted.