This needs a stretch. (Feel free to remove when satisfied of completion.)
Needed:
* Personality.
* History is incomplete.
Taffy Dare is a member of the Teen Angels and friend of their mascot, Captain Caveman. Together, they were also members of the Scooby Doobies in the Laff-a-Lympics.
Physical appearance
Taffy is a slim and very attractive Caucasian teenaged female, with long blonde hair. She wears a blue vest top with the letter "S" over a green dress with matching shoes.
Personality
Insert details here.
History
Laff-a-Lympics
Season one
Insert details here. (The Swiss Alps and Tokyo, Japan)
Season two
Insert details here.
Laff-a-Lympics (Marvel Comics)
Insert details here.
Scooby-Doo (Marvel Comics)
Insert details here. (Mystery at Malibu)
Scooby-Doo! Mask of the Blue Falcon
There was posters of her and the Teen Angels at the Mega Mondo Pop Comic Con-A-Palooza.[1]
Appearances
Scooby-Doo! Mystery Incorporated continuity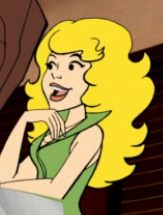 She appeared in Scooby-Doo feverish dream, where he dreamt seeing her with the Teen Angels and Captain Caveman attend the Mystery Solvers Club State Finals.[2]
Appearances in other media
The original Taffy also appeared on her own show, Captain Caveman and the Teen Angels, airing as a segments for the Scooby's All-Star Laff-A-Lympics and Scooby's All-Stars. In March 1980, Captain Caveman and the Teen Angels were given their own half hour show with 16 new episodes combined with reruns from 1977-1979. A total of 40 11-minute episodes were produced (16 in 1977-1978, 8 in 1978-1979 and 16 in 1980).
Like most Saturday morning animated series' of the era, Captain Caveman and the Teen Angels contained a Hanna-Barbera laugh track, one of the last Hanna Barbera productions to do so.
The series centers on the mystery-solving adventures of the "Teen Angels"—Brenda Chance, Dee Dee Skyes and Taffy—and their friend Captain Caveman (or Cavey for short), a prehistoric caveman whom the girls discovered and thawed from a block of ice. The concept and general plot for the show was seen as a parody of Charlie's Angels (which also aired on ABC). It also borrowed heavily from other Hanna-Barbera shows such as Scooby-Doo and Josie and the Pussycats, among others.
Taffy is renowned for her cry of "Zowie!" whenever she comes up with a plan (or "Another Daffy Taffy Plan" as Brenda and Cavey would call it) to catch the culprits (making her the Fred Jones of the group). In spite of her usually zany plans, Taffy is actually very capable and clever. She can charm Captain Caveman into being the live bait for her traps (he may have a crush on her).
References
Community content is available under
CC-BY-SA
unless otherwise noted.