This article is about the character from the DTV Scooby-Doo and the Alien Invaders. For other uses, see Steve (disambiguation).
This needs a stretch. (Feel free to remove when satisfied of completion.)
Needed: History is incomplete.
Steve was a member of SALF, an organistion in the pursuit of aliens.
Physical appearance
Steve is a young Caucasian male, with brown hair, and blue eyes. He is skinny, and of average height. He wears a white and blue button shirt, tan shorts, and black and white sneakers.
Personality
When he first met Mystery Inc. he was laid-back and very friendly. He is also very intelligent. His co-worker Laura pointed out that Steve found his work at the SALF station boring. Additionally, he came off as somewhat sarcastic. Eventually, it is revealed that he and the other SALF employees are the Aliens. Steve showed his true colors: he was arrogant, greedy, and callous showing no regard for the lives of Mystery Inc. or Crystal and Amber. His motivation was greed, but he did have some traits of a sociopath.
History
Scooby-Doo and the Alien Invaders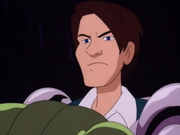 When he and his co-workers discovered gold in the nearby caves where they worked, they dressed up like aliens to scare people away.
Appearances
In other languages
Community content is available under
CC-BY-SA
unless otherwise noted.