Spider-Man: No Way Home Trailer Dropped - The Loop
Play Sound
This article is about Shaggy & Fred in standard continuity. For their relationship in other continiuties, see Shaggy Rogers and Fred Jones (disambiguation).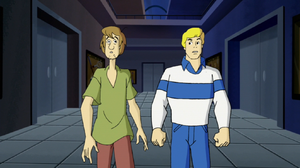 Shaggy Rogers and Fred Jones are the two guys of Mystery Inc. They are two polar opposite of one another, yet still manage to get along.
Dynamic
Despite the fact they have practically nothing in common and they couldn't be any more different if they tried, they have managed to form a very close friendship with their interest in solving mysteries - although Fred is certainly confident in tackling monsters, whereas Shaggy is fearful and prefers to run away from them. It should also be noted that Shaggy leads one half of the Gang while searching for clues, and has been known to step up to the role of leader on occasions where Fred is not in the role, showing that they both have qualities of leadership in common. 
History
Scooby-Doo on Zombie Island
Fred got annoyed with Shaggy for shakily holding his camcorder while he unmasked what he thought to be a fake dead body.[1]
Scooby-Doo and the Alien Invaders
Fred was upset and actually crying for Shaggy and Scooby-Doo who had to say goodbye to their alien girlfriends forever. Though later he is seen trying to comfort heartbroken Shaggy and Scooby before going back home.[2]
What's New, Scooby-Doo?
The gang decided to pair up differently to search the mall, leaving Shaggy and Fred together. During their search, they tried to make small talk, with Fred asking if he saw the sports game the other night, and Shaggy asking if he wanted to get something to eat--neither of who could say yes to, revealing that they had nothing in common. They decided to pair up regularly next time before continuing with their search.[3]
He and Shaggy both shared the same house (with Scooby) in Coolsville, when they were not on the road.[4]
After Fred regained consciousness, Shaggy was relieved that Fred was safe, and put his hand on his shoulder.[5]
Scooby-Doo! Stage Fright
Fred was shocked that Shaggy thought he could just enter the finals of Talent Star just by showing his talent on the spot.
While getting gas after the show, Fred was in conflict with his feelings for Daphne, but Shaggy and Scooby (who were both aware of it) encouraged him to just talk to her about it.[6]
Notes/trivia
References