Jurassic World: Dominion Dominates Fandom Wikis - The Loop
Play Sound
This article is about the incarnation of Shaggy Rogers from A Pup Named Scooby-Doo. For other incarnations, see Shaggy Rogers (disambiguation).
This needs a stretch. (Feel free to remove when satisfied of completion.)
Needed:
* History.
Norville "Shaggy" Rogers is the owner and best friend of Scooby-Doo. They live in Coolsville and are members of the junior sleuthing group, the Scooby-Doo Detective Agency.
Physical appearance
Shaggy has black eyes, has dark blonde /dusty brown hair, a bulbous nose, and is taller than the rest of his friends. He wears a green shirt, cuffed blue jeans, and grey sneakers.
Personality
Shaggy, along with his buddy Scooby-Doo, are the goofballs of the group. They both have a larger than life appetite and are easily spooked by ghouls, ghosts, and other creatures they encounter. Shaggy says "Like" and "Zoinks" frequently as they are his go to catchphrases. Both Scooby and Shaggy can be easily bribed with Scooby Snacks in order to act as the gang's live bate when it comes to catching kooks. The reason Shaggy eats so much (and maintains his slender physique) is his "high metabolism".
History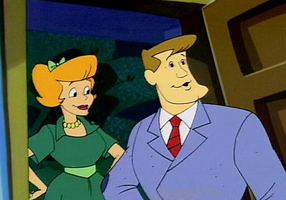 Shaggy's father is a member of the police and the profession of Shaggy's mother is unknown. The name of Shaggy's parents are not revealed in a Pup Named Scooby Doo but they are referred to by Shaggy as "Moms and Pops".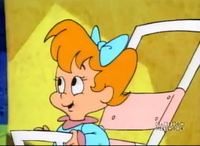 Shaggy also has a little sister named Maggie who is nicknamed Sugie.
A Pup Named Scooby-Doo
Season one
Insert details here.
Season two
Insert details here.
Season three
Insert details here.
Season four
Insert details here.
Hanna-Barbera Presents
Insert details here.
What's New, Scooby-Doo?
Season three
Insert details here.
Scooby-Doo! Team-Up
Insert details here.
Appearances
References