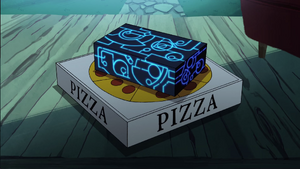 Scooby-Dooby-Doo![Note 1] is a Scooby-Doo promotional trailer for the LEGO video game, LEGO Dimensions. It was posted on both the LEGO and LEGO Dimensions YouTube accounts on August 19, 2015. It serves to promote not only the use of the Scooby-Doo franchise, but the Scooby-Doo! Team Pack that can be purchased for it on the launch day of the game (September 29, 2015).
The "wrap-arounds" of the video game footage is done in the same 2-D animation as the concurrent direct-to-video films, and esstentially reveals that LEGO and LEGO Dimensions (or at least a version of it) exists in the "real-world" of Scooby-Doo, (much like what was done similarly for Back to the Future).
Premise
Shaggy and Scooby find a mysterious black box on their doorstep.
Synopsis
Scooby and Shaggy are terrified by one thing: their empty refrigerator. The doorbell rings, and a pizza is delivered, along with a mysterious black box. Shaggy believes it's dessert at first, until he spills the Lego bricks on the table. Scooby quickly assembles the Lego Gateway with ease, and they're shown footage from the game.
However, their pizza is mysteriously eaten, and they look down at their Lego counterparts. Shaggy wonders if they could be the culprits, and Scooby laughs and yells "Scooby-Dooby-Doo!!!"
Characters
Main characters:
Supporting characters:
Villains:
Other characters:
Locations
LEGO Dimensions
Objects
Pizza box
Table knife
Fork
LEGO Gateway box
LEGO Gateway instruction sheet
Leftover eaten bits of pizza
LEGO Dimensions
Vehicles
LEGO Dimensions
Cast
Notes/trivia
Animation mistakes and/or technical glitches
Inconsistencies/continuity errors and/or goofs/oddities
If this trailer is set in standard continuity, the Mystery Machine would be in front of Fred's house, and not Shaggy's (it seems to be reference to the smaller version of the Mystery Machine being included in the team pack and its use in the game).
Quotes
Footnotes
↑ This was the name given to the video on the LEGO Dimensions's official website and YouTube video. It was also referred to as Scooby-Doo, Where Are You! on LEGO's YouTube video.
External links
Community content is available under
CC-BY-SA
unless otherwise noted.