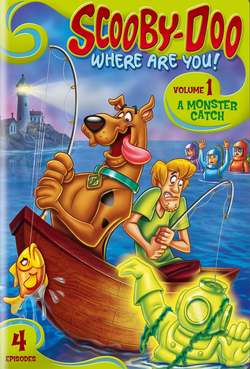 Scooby-Doo, Where Are You: Volume 1 - A Monster Catch is a DVD containing the first four episodes of the first season of Scooby-Doo, Where Are You!. It was released by Warner Home Video on January 27, 2009.
Product description
THE ORIGINAL FIRST 4 EPISODES, REMASTERED!
A world without Scooby-Doo?
Hard to imagine, but that's how it was before these four episodes first aired on long-ago Saturday mornings, making Shaggy, Velma, Daphne, Freddy and the snack-loving Scooby-Doo household names. It all starts whn the gang finds an ancient black armor suit that clanks to life in What a Night for a Knight. They then encounter a ghost ship that's clueless, and everyone's clueless...until they solve the mystery of the Hassle in the Castle. High seas turn on the high surf as Scooby-Doo gets tangled up with a slimy seaweed creature in A Clue for Scooby-Doo. The ghosts keep on haunting and out heroes keep on hunting them, this time in a deserted mining town where a 150-year-old miner keeps giving them the swaft! Sometimes it's better to just Mine Your Own Business!
Episodes
Notes/trivia
WHV has misplaced the order of A Clue for Scooby Doo with Hassle in the Castle.
The cover is based on the episode A Clue for Scooby Doo.
External links
Community content is available under
CC-BY-SA
unless otherwise noted.