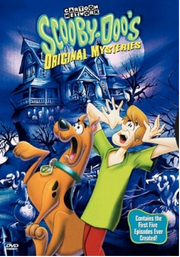 Scooby-Doo's Original Mysteries is a DVD containing the first five episodes of Scooby-Doo, Where Are You!. It was released by Warner Home Video in August 2000.
Production Description
See how your favorite snack-munching canine super sleuth got his start! Featuring the first five Scooby-Doo episodes ever unleashed, including the series pilot, available now for the first time on DVD. Watch the pilot episode that launched a cartoon legend as Scooby, Shaggy and the rest of the gang race to unmask an armor-clad art swindler in What a Night for a Knight. Next in the howl-larious Hassle in the Castle, they follow a ghost ship's missing crew to a phantom-infested isle, and then pursue a soggy sea-spook in A Clue for Scooby Doo. A kooky counterfeiting caper is unearthed in Mine Your Own Business and the action heats up in Decoy for a Dognapper, as Scooby-Doo falls head-over paws in love and helps snare the culprit who pilfered a pack of prize-winning pooches! Now you can own the best of Scooby-Doo on DVD!
Episodes
Special Features
Trivia
Warner Home Video misplaced the order of Hassle in the Castle and A Clue for Scooby-Doo.
This is the first DVD for the Scooby-Doo franchise.
This is the first time Scooby-Doo and Shaggy Rogers have appeared on a DVD cover.
Community content is available under
CC-BY-SA
unless otherwise noted.