This article is about the DVD. For the VHS of the same name, look here.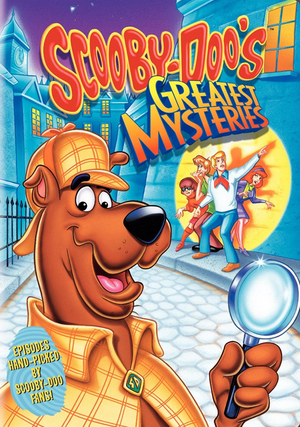 Scooby-Doo's Greatest Mysteries is a DVD which consists of four fan picked episodes of Scooby-Doo, Where Are You! Total run time of 109 minutes. It was released on May 6, 2003 by Warner Home Video.
Product description
MUNCH A SCOOBY SNACK!
SCOOBY-DOO fans have spoken! 4 of SCOOBY-DOO'S most popular mysteries - selected by the fans themselves - are now available in this fun DVD.
Watch as Scooby-Doo gets into a mixed-up mystery when he unexpectedly meets the seaweed-covered ghost of Captain Cutler in "A Clue for Scooby-Doo!" Next, see the seafaring sleuths collide with a mystery ship and try to uncover clues to a vanished crew in "Hassle in the Castle!" Then, follow Scooby-Doo and the Mystery, Inc. gang as they outwit a bank robber in "Jeepers, It's the Creeper!" And finally, see them take to the stage to crack some crazy capers in "The Backstage Rage."
Now, get 88 minutes of non-stop action all on this one collectible Scooby-Doo DVD!
Episodes
Special features
Notes/trivia
The DVD features three additional language tracks in French, Spanish, and Brazilian Portuguese. Ted Nichols' original version of the theme can be heard in these tracks for "A Clue for Scooby Doo" the Brazilian Portuguese track for "Hassle in the Castle". The French language track for episodes 2-4 also contain the clean instrumental/karaoke versions of the intros and credits.
Gallery
External links
Community content is available under
CC-BY-SA
unless otherwise noted.