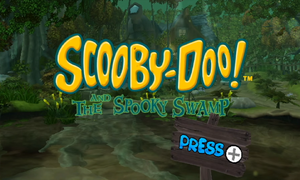 Scooby-Doo! and the Spooky Swamp is a video game released on September 14, 2010. It is developed by Torus Games and published by Warner Bros. Interactive Entertainment for Wii, Nintendo DS, PlayStation 2, and PC. It is a sequel to Scooby-Doo! First Frights, released the year before.
Premise
Scooby-Doo, Shaggy, Daphne, Velma and Fred set out to investigate the mystery that surrounds a weird, young girl from the swamp and her odd cauldron of brew.
Synopsis
Level 1
Insert details here.
Level 2
Insert details here.
Level 3
Insert details.
Characters
Main characters:
Supporting characters:
Villains:
Other characters:
Locations
Objects
Romero's harmonica
El Scaryachi's harmonica
Vehicles
Suspects
Culprits
Culprit
Motive/reason
El Muncho level
Sheriff controlling El Scaryachi puppet
To claim El Muncho's oil for himself.
Howling Peaks level
Moose as the Yeti robot (and wearing a Yeti costume)
To snowboard in peace, with no tourists in the way.
Cast
Notes/trivia
Gallery
External links
Community content is available under
CC-BY-SA
unless otherwise noted.