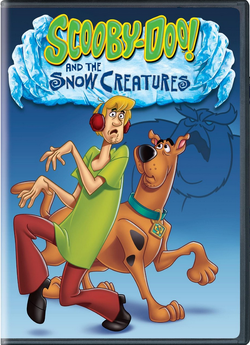 Scooby-Doo! and the Snow Creatures is a DVD containing three episodes from two Scooby-Doo series. It was released on September 9, 2011 in parts of Europe, before a wider release by Warner Home Video in the US on October 1, 2013.
Product description
CHILL OUT AS SCOOBY-DOO AND THE MYSTERY, INC. CREW SOLVE 3 COLD AND FROSTY CASES!
When contestants at a way-cool snowboarding contest are suspiciously sidelined, Scooby-Doo and the kids investigate - and discover a chilling fact that There's No Creature Like Snow Creature! In A Scooby-Doo Christmas, Scooby-Doo and crew set out to melt the ferocious Frosty and save the day. And finally, a ski vacation turns into a scarefest when Scooby and Shaggy meet up with the ghost of an abominable snowman. To find out it's all a snow job, the entire gang hits the slopes in search of clues in That's Snow Ghost.
Episodes
WNSD: A Scooby-Doo! Christmas
Notes/trivia
External links