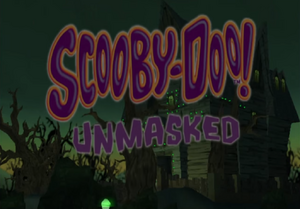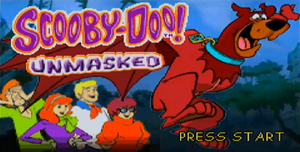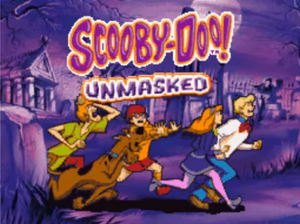 Scooby-Doo! Unmasked is a video game developed by Artificial Mind and Movement, published by THQ, and distributed by Warner Bros. Interactive.
The North American release dates were September 12, 2005 for GameCube, PlayStation 2, and Xbox, and then joined by a Nintendo DS release on October 18, 2005. For PAL regions, it was released on Xbox on September 16, 2005, on GameCube, and PlayStation 2 on September 23, 2005, and lastly, on the DS on November 11, 2005.
Premise
Mystery Inc. are on their way to see Fred's cousin, Jed, only to discover he is gone and the prime suspect in stealing from the company he works for. But finding Jed's whereabouts is only half the mystery in a plot that unravels someone's master scheme of revenge.
Levels
Rockin' Roller Coaster Terror for DS/GC/PS2/Xbox and Rockin Roller Coaster of Terror for GBA
Harum Scare'em at the Museum for DS/GC/PS2/Xbox and Harum Scarum at the Museum for GBA
Back to Monstrous Fright and Magic for DS/GC/PS2/Xbox (levels 4 and 5 of the GBA version are combined)
Cast
This applies to the home video console platforms.
Supporting
Notes/trivia
Scooby uses different costumes to gain new abilities. The following costumes include:
Kung Fu: allows Scooby to use martial arts. In the PS2/GC/Xbox version, Scooby can charge up for a Mega Strike. In the GBA/DS version, he can break or move items with the yin yang symbol on it.
Ninja: upgraded version of Kung Fu. Scooby can perform a powerful ground pound while in midair.
Bat: this costume gives Scooby the ability to glide in midair. He can also use fans to float upwards.
Vampire bat: upgraded version of Bat. This costume allows Scooby to glide farther and faster than before.
Robin Hood/Archer: Scooby can shoot plungers using his bow. He can fire at targets and enemies. In the GBA/DS version, he shoot plungers at walls to climb up them. However, in the GBA version, Scooby cannot spin attack.
Sharpshooter (upgraded version of Robin Hood): Scooby can shoot three plungers at once.
Scientist: exclusive to DS version. Scooby can dissolve mubber cubes and walls by playing a puzzle minigame. Scooby cannot double jump in this costume.
The Beast of Bottomless Lake also appeared in the game.
Advertised features
Explore massive levels including the Harum Scare'em Museum, the Haunted Rockin' Roller Coaster, and get ready for a Shuddery Showdown in Chinatown.
Collect and wear costumes that give Scooby special abilities such as a Kung Fu Scooby, Bat Scooby, and Robin Hood Scooby.
All-new game engine featuring contour shading that makes the game look just like the cartoons.
Gallery
External links
Community content is available under
CC-BY-SA
unless otherwise noted.