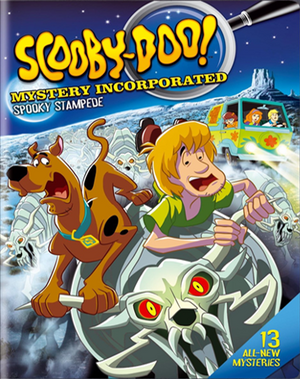 Scooby-Doo! Mystery Incorporated: Season Two, Part 2 - Spooky Stampede is a two-disc set containing the last thirteen episodes of the second season of Scooby-Doo! Mystery Incorporated. It was released by Warner Home Video on June 18, 2013.
Product description
SCOOBY AND THE GANG FACE A SPOOKY STAMPEDE OF NEW MYSTERIES!
Scooby-Doo, Shaggy, Daphne, Fred and Velma are back in all-new mysteries and leave no stone of Crystal Cove unturned as they continue their thrilling and terrifying tour of the "Most Hauntedest Place on Earth!" In these final episodes of Season 2, the Mystery Inc. crew races against time, creepy creatures and other interested parties to solve long-buried secrets of their home town. Can the gang also solve their greatest mystery yet and save Earth from destruction? Zoinks! Jump into The Mystery Machine for one wild ride after the other with Scooby and the rest of Mystery Inc. in this double-disc set! You'll be on the edge of your seat as they get help from classic Hanna-Barbera adventurers Dr. Benton Quest and Roger "Race" Bannon from Jonny Quest, Dynomutt, Dog Wonder, the Blue Falcon and more!
Episodes
Disc 1
Disc 2
Notes/trivia
The cover is based on the episode The Horrible Herd.
Heart of Evil is miscredited as The Heart of Evil and Theater of Doom as Theater of the Doomed. Cartoon Network also miscredited the episode that way in the series schedule on their site.
The blurb misspells Jonny Quest's name as "Johnny".
For the first time ever in the Scooby-Doo! Mystery Incorporated home media, the episodes on the back of the DVD are separated in Disc 1 and Disc 2.
Gallery
External links
Community content is available under
CC-BY-SA
unless otherwise noted.