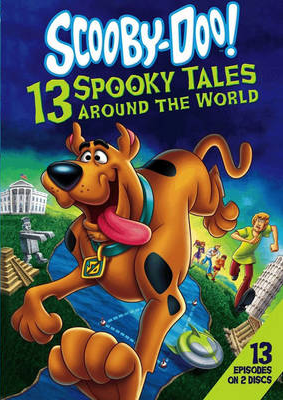 Scooby-Doo! 13 Spooky Tales Around the World is a two-disc DVD compilation of 13 world-themed episodes from various Scooby-Doo series. It was released on May 15, 2012 by Warner Home Video.
Product description
PACK YOUR SCOOBY SNACKS!
13 Classic, Creepy Globetrotting Episodes Await.
Nobody vacations like Scooby-Doo and the gang. This is arm-scare travel at its very best! And with 13 hair-raising vacation destinations on two DVDs, that's hours of family fun. Get ready to get shipwrecked in the Bermuda Triangle with scary skeleton scuba divers and chased through the canals of Venice by the Ghostly Gondolier, who even kidnaps Daphne! Hop aboard a haunted Aztec barge, but not before Scooby-Doo wows a vengeful god with his Mexican hat dance – to say nothing of his airplane cha-cha over the headhunter-happy jungles of Brazil. Along the way you can bet the Mystery Inc. gang will get to the bottom of each mystery with plenty of "zoinks!" (the same in every language), plenty of hijinks and a whole lot of international cuisine – leaning tower of pizza anyone?
Episodes
Disc 1
Disc 2
Notes/trivia
Despite what the DVD claims, there are actually twelve episodes and not thirteen. Parts one and two of Ghosts of the Ancient Astronauts are counted as two separate episodes.
The cover includes elements from the episodes The Spirits of '76, The Fiesta Host Is An Aztec Ghost, A Creepy Tangle in the Bermuda Triangle (although the UFO is colored differently), A Menace in Venice and Lock the Door, It's a Minotaur!.
The Harum-Scarum Sanitarium is listed as The Harum Scarum Sanitarium; Lock the Door, It's a Minotaur! as Lock the Door, It's a Minotaur and Jeepers, It's the Jaguaro! as Jeepers, It's the Jaguro!.
A repackaged version of this DVD with a green frame was released March 26, 2013.
A repackaged version of this DVD with an orange frame and spiderwebs, supposedly a Halloween Edition, was released September 24, 2013 in Canada.
In other languages
| Language | Name | Meaning | Notes | Distributor |
| --- | --- | --- | --- | --- |
| French | Scooby-Doo! 13 Aventures en Vacances | Scooby-Doo! 13 Adventures on Vacation | TBA | Warner Video |
External links