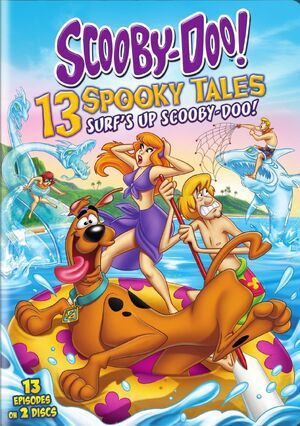 Scooby-Doo! 13 Spooky Tales: Surf's Up, Scooby-Doo! is a 2-disc DVD set, containing 12 episodes from various Scooby-Doo series, highlighted by the additional new special, Scooby-Doo! and the Beach Beastie. It was released by Warner Home Video on May 5, 2015.[1]
Product description
SOAK UP ALL THE FRIGHTENING FUN IN THIS SPLASH-TACULAR SCOOBY-DOO! COLLECTION!
For Scooby-Doo, Shaggy and the rest of the crime-busting crew, life is never a day at the beach. So when the Gang go to a resort in Florida for a much-needed vacation, they kick back and enjoy some sun, sand and...a sea monster?! When a weird water creature causes trouble in paradise by stealing precious jewels, the Gang will either sink or swim to solve the case. Also, watch Scooby-Doo make a splash in 12 more fun-filled summertime episodes full of nautical nuisances. Will the Gang throw in the towel when they face aquatic apparitions, haunted lighthouses, and other oceanic oddities? Pick up this collection today so the entire family can ride the wave of scary fun and adventure with Scooby-Doo!
Episodes
Disc 1
Disc 2
Notes/trivia
The front cover is loosely based on Scooby-Doo! and the Beach Beastie.
Warner's online ads claimed there would be a Digital HD release on the same day as the DVD's, but there has yet to be one on either iTunes or Amazon.
In other languages
Language
Name
Meaning
Notes
Distributor
Greek
Scooby-Doo! 13 Τρομακτικές Ιστορίες: Καιρός γαι Σερφ Scooby-Doo!
Scooby-Doo! 13 Spooky Stories: Time for Surf Scooby-Doo!
Episodes 2, 3, 4, 9, 10 and 13 borrow ready Greek translations by Audio VIsual, while the rest are newly dubbed.
Episode 12 borrows the new translation from the Complete Season 1 set.
Tanweer
French
Scooby-Doo! 13 Aventures au Surf
Scooby-Doo! 13 Adventures in Surf
TBA
Warner Video
Gallery
References
External links
Community content is available under
CC-BY-SA
unless otherwise noted.