Sally's husband is an extended visitor to Crystal Cove.
Physical appearance
The audience member is an African-American male, with black hair. He wears a beige and off-white suit over a white turtleneck. He has a hat with an orange-brown band, and wears tinted glasses.
Personality
Without giving it a thought, he left his kid to run free of their home after believing his kid had been turned into a monster.[1]
He didn't hesitate to heckle Vincent Van Ghoul while the latter was on stage when he incorrectly placed Crystal Cove in the wrong ocean.[2]
History
Scooby-Doo! Mystery Incorporated
Season one
He went on the tour of the Crystal Cove Spook Museum.[3]
He and his wife packed their car and went to stay somewhere else while their kid acted spookafied after being bribed with candy from Mary Anne Gleardan.[4]
Season two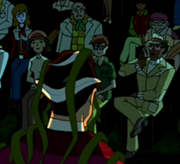 He was present at the town meeting where Mayor Nettles tried to reassure the town that the Crybaby Clown would be caught by the gang. He was wearing a more purple version of his outfit that night.[5]
He heckled Van Ghoul when he spoke of Crystal Cove falling into the Atlantic, instead of the Pacific. The actor looked blank and stuttered for a moment and then covered with an evil laugh.[2]
His wife was among several others who had been kidnapped by the Dandy Highwayman. He along with other helpless husband went to City Hall for a town meeting on it.[6]
Appearances
Quotes
Audience member: It's the Pacific, you hack!

Notes/trivia
The couple of citizens on the museum tour who spoke were credited as tourists, so he's likely the same, yet they all seemed to have very quickly become citizens. It seems more likely that they were always citizens, but the credits would only identity them as tourists.
References
↑ The Song of Mystery, season 1, episode 5.
↑ 2.0 2.1 Theater of Doom, season 2, episode 15.
↑ Beware the Beast from Below, season 1, episode 1.
↑ The Song of Mystery, season 1, episode 5.
↑ The Night the Clown Cried, season 2, episode 1.
↑ Stand and Deliver, season 2, episode 20.
Community content is available under
CC-BY-SA
unless otherwise noted.