This needs a stretch. (Feel free to remove when satisfied of completion.)
Needed: History is incomplete.
Rutie Banez was a skateboarding judge at the Grind Games. She could only be judge, but not a competitor, so she dressed up as the San Franpsycho to get revenge.
Physical appearance
Rutie is a young Caucasian female with a slim figure. She has black hair tied into a ponytail. She wears an orange shirt, tucked into denim jeans with a belt, and black shoes. She also applies red lipstick. She has a tattoo on her left arm of Ryan Sheckler.
Personality
She was secretly jealous of the skateboarder contestants for competing in Grind Games because she thought she wasn't allowed to compete. So, she took revenge by endangering the lives of the competitors as the San Franpsycho, except for Sheckler, as she was a big fan and always rooted for him. She was apparently somewhat delusional, as she insisted she was a "really good" boarder, despite flailing around worse than Shaggy did his first times on either a skate or snowboard. She was also utterly ruthless, willing to endanger every passenger on a cable-car simply because Fred was on it.
History
What's New, Scooby-Doo?
Season two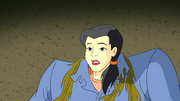 Rutie assumed that the reason they wouldn't let her compete was because she's a girl, despite the fact that there were other female competitors in the Grind Games. The real reason they wouldn't let Rutie compete was because she's terrible at skateboarding. In fact, she was so terrible to the point that she would instantly slip and fall back just after placing one foot on the board, and she couldn't even stand on the board even for a split second. After this revelation, which was demonstrated by two humiliating attempts to prove them wrong, she was arrested and taken away by the police.
Appearances
In other languages
Community content is available under
CC-BY-SA
unless otherwise noted.