This needs a stretch. (Feel free to remove when satisfied of completion.)
Needed:
* Physical appearance.
* Personality.
This article is about the character from the Scooby-Doo! Mystery Incorporated episode The Hodag of Horror'The Hodag of Horror​The Hodag of Horror​. For other uses, see Roberto (disambiguation).
Roberto was the trained pet chimpanzee of Ned Fussbuster, owner of Crystal Cove's cheese shop, Something Cheesy this way Comes. He assisted in the shop, disguised as a human.
Physical appearance
Insert details here.
Personality
Insert details here.
History
Scooby-Doo! Mystery Incorporated
Season two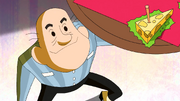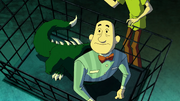 Roberto was trained to steal on command, when he heard the sound of bells. He also became obsessed with bells and would steal them and anything attached to them, like the dog Nova with her belled collar. He was dressed as the Hodag of Horror to frame Gene Shepherd and make it possible to break his security, steal his key, and take the 500-year old cheese that Shepherd kept as his prize possession.[1]
Post-Nibiru
When the Evil Entity was destroyed, it altered all of reality for Crystal Cove, thus the Hodag of Horror wasn't a disguise in the past.<ref.Come Undone, season 2, episode 26.</ref>
Appearances
References
Community content is available under
CC-BY-SA
unless otherwise noted.