This needs a stretch. (Feel free to remove when satisfied of completion.)
Needed:
* Physical appearance.
* History is incomplete.
This article is about a refrigerator in standard continuity. For other continuities, see Refrigerator (disambiguation).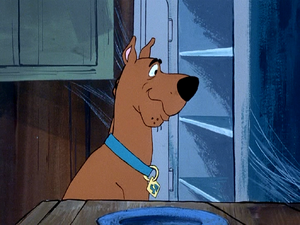 A refrigerator (colloquially fridge) is an appliance used to artificially cool food and other items.
Physical appearance
Insert details here.
History
A Pup Named Scooby-Doo
Season one
Insert details here. (The Babysitter from Beyond)
Season two
Insert details here. (Curse of the Collar)
Season three
Insert details here. (The Ghost of Mrs. Shusham)
Scooby-Doo, Where Are You!
Season one
In Franken Castle, Shaggy Rogers and Scooby-Doo found Fried Moonbeams, Pickled Vampire Wings, and Werewolf Snacks in the fridge.[1]
Checking for food while investigating at the abandoned airfield, Scooby ate the chicken and ham bone he found in the fridge, without telling Shaggy (but left him an olive), who quickly realized they were clues to someone living on the base.[2]
The New Scooby-Doo Mysteries
Insert details here. (Scoo-Be or Not Scoo-Be?)
Insert details here. (South Pole Vault)
Scooby-Doo Meets the Boo Brothers
Insert details here.
What's New, Scooby-Doo?
Season two
Shaggy & Scooby got the kitchen of Fortescu Castle and add garlic to their milkshakes and cookies during a vampire attack.[3]
Season three
In the morning after the gang had returned home to Coolsville, for a rest from solving mysteries, Shaggy checked his and Fred Jones's fridge, which still had take-out long past its sell-by date.[4]
Appearances
Other continuities
Shaggy & Scooby-Doo Get a Clue!
It was morning, and Shaggy and Scooby were ready to eat. But to their surprise, the fridge was empty of any food.[5]
Scooby-Doo! Mystery Incorporated
Shaggy's parents had stopped him and Scooby from having a bedtime snack because he had been caught, with the gang), snooping around the Mayor's office. Fortunately, he and Scooby had a back-up fridge -- his bed -- which was also where he hid a piece of the Planispheric Disk. The Freak of Crystal Cove knew this, and came to collect it.[6]
References
External links
Community content is available under
CC-BY-SA
unless otherwise noted.