Spider-Man: No Way Home Trailer Dropped - The Loop
Play Sound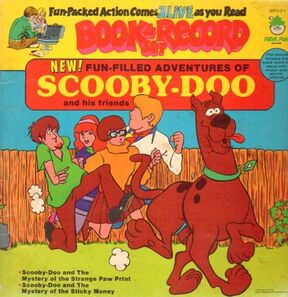 Peter Pan Records, a children's audio label in the 1970s, produced a series of Scooby-Doo recordings in collaboration with Hanna-Barbera, most notably book-and-audio sets (i.e. a storybook or comic book with an accompanying record or audio cassette that plays out the book's story.) These recordings usually featured many of the actual voice cast members of the time currently voicing the gang, including Don Messick (whom usually would also do the opening narration in his natural voice), Heather North Kenney, Pat Stevens and Frank Welker as their respective characters. In the read-alongs, Shaggy Rogers was voiced by Duncan Robertson instead of Casey Kasem, whom did reprise the role for the 1978 LP releases. None of Hanna-Barbera's sound effects or music are used on these recordings; the music score is mainly made up of tunes from stock music libraries. These recordings (along with the comics from Marvel Comics) also marked the earliest use of the name Mystery Inc.
45 RPM book and record sets
Titles released as 45-RPM book-and-record sets (later also released on cassette) include:
The initial two stories were also released together as a "Deluxe Book and Record Set" simply entitled Scooby-Doo, with both stories on a single 12" LP record, and a gatefold booklet with comic illustrations.
All four of these adapt the first four Rand McNally Scooby-Doo books.
Album releases
Additional LP releases include:
References