The Spanish church is a ruined building in Crystal Cove that may have been built at the time of the conquistadors.
History
Early history
The original Mystery Incorporated searched there for the cursed treasure of the conquistadors hidden somewhere in Crystal Cove. This caused them to be threatened and driven out of town by the Freak of Crystal Cove.[1]
Scooby-Doo! Mystery Incorporated
Season one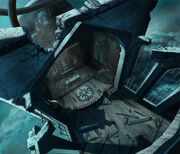 Professor Pericles and Scooby-Doo visited it, supposedly for Pericles to get pewter for his antidote, but actually for him to steal a shipping manifest that once belonged to an old Spanish ship.[2]
Angel Dynamite, a member of the old Mystery Incorporated warned the next generation it could happen to them when the Freak returned,[1] but the gang went there, anyway, to enter the Crystal Cove Caves. Later, Fred Jones, Jr. chased the Freak of Crystal Cove out over the church's cliff, where the latter was revealed to be Fred Jones, Sr.[3]
Appearances
References
Community content is available under
CC-BY-SA
unless otherwise noted.