This article is about the disguise of Mama Mione. For the cyber-version, see Old Iron Face (Scooby-Doo and the Cyber Chase).
This needs a stretch. (Feel free to remove when satisfied of completion.)
Needed: History is incomplete.
Old Iron Face was the disguise of Mama Mione, who used it terrorize the visitors of a former prison on Skull Island.
Physical appearance
Old Iron Face has an intimidating appearance. He has a huge masculine body built with a wide chest and broad shoulders with an iron mask covering his face, revealing his green eyes. His outfit sightly resembles a pirates with a captain's hat, a light blue long-sleeved collared shirt under a black tunic with a purple belt sash and jean colored pants with high black boots with shoe buckles.
Personality
Spooky, gruff, and mean-looking; stops at nothing to keep people away from Skull Island.
Powers and abilities
He was extremely strong, being able to bust down multiple locked stone doors with ease.
History
The Scooby-Doo Show
Season three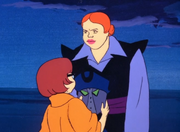 When Scooby-Doo and Shaggy Rogers discovered the sharks the ghost rode had torpedoes, they led Iron Face on a chase until Fred Jones caught him with a magnetic crane.
When Iron Face was unmasked, it was revealed that he wasn't a male, but a female: Mama Mione. Mama Mione had decided to pretend she was Old Iron Face and use the cafè to hide the fact that she smuggled convicts through an underground hideout on Skull Island. She then sent them out from her secret hideaway in a fake iron shark. She dressed as Old Iron Face to make sure nobody went to Skull Island and found where she smuggled and hid the escaped convicts.[1]
Scooby-Doo! Frankencreepy
Insert details here.
Appearances
References
Community content is available under
CC-BY-SA
unless otherwise noted.