This article is about the Mystery Machine from the TV series The 13 Ghosts of Scooby-Doo. For other incarnations, see Mystery Machine (disambiguation).
This needs a stretch. (Feel free to remove when satisfied of completion.)
Needed: History is incomplete.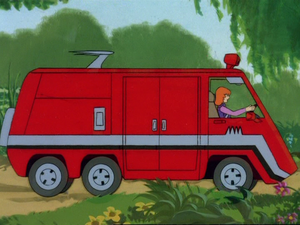 The Mystery Machine, later called the Miss-tery Machine, was a van used by the gang during their quest to find the 13 ghosts they had accidentally let out from the Chest of Demons. While it had the same name and purpose as the original, this one was a separate van, owned by Daphne Blake.
It was a red high-tech van with multiple gadgets installed.
History
The 13 Ghosts of Scooby-Doo
Insert details here. (To All the Ghouls I've Loved Before)
Scooby-Doo and the Ghoul School
Shaggy and Scooby were driving this van when they happened upon the Ghoul School.
Scooby-Doo! and the Curse of the 13th Ghost
After Fred had sold the Mystery Machine, the gang was contacted by Vincent Van Ghoul, prompting them to go search for the Thirteenth Ghost. Daphne offered the use of the alternate van, which they dubbed the "Miss-tery Machine".
Appearances
References
Community content is available under
CC-BY-SA
unless otherwise noted.