Mrs. Wyatt is the mother of Jason.
Physical appearance
Mrs. Wyatt is a tall, slender Caucasian woman. She has dark reddish-brown hair with deep red highlights and a long, somewhat pointed nose. She wears khaki pants with a reddish-brown top that has an oversized collar and matches her hair color. Likewise, she wears a dark lavender sweater jacket matched to her eyeshadow color. She completes the ensemble with a bright pink scarf tied around her neck.
Personality
She was obsessed with getting even with the gang for their dismissive treatment of her son, which would suggest a deep affection and overprotective relationship between mother and son.
Powers and abilities
She has exceptional skill in military-grade robotics.
History
Early life
Insert details here.
Scooby-Doo! Mystery Incorporated
Season one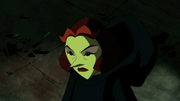 Jason's mother was displeased at how her son was treated at school especially from Mystery Incorporated. Due to her status as a former military engineer, she created the Fright Hound to destroy the gang and frame Scooby-Doo in order to break them apart so Jason could get his true love, Velma. She was even more angered when the group accused her son of creating the Fright Hound.
Following the Fright Hound's attack on the animal asylum, Mystery Incorporated lured it to a factory where the Fright Hound got compacted. When they saw a cloaked figure who was controlling it, they activated a claw-like weapon and caught the culprit. When Sheriff Bronson Stone and two police officers arrived, the culprit was discovered to be Jason's mother who wanted revenge on Mystery Incorporated for how they treated her son and to get Jason to be with Velma. But changed her plan to 'get rid' of all of them when they showed up and blamed him.
As his mother was taken away by Sheriff Stone's men, Jason quoted "Now Velma will never be my girlfriend. And she would have to, if it weren't for my meddling mom!"[1]
Post-Nibiru
When the Evil Entity was destroyed, it altered all of reality for Crystal Cove, meaning she didn't build the Fright Hound in the past.
Appearances
Trivia
Since the Fright Hound's rampage released all the animals from the Crystal Cove Animal Asylum for the Criminally Insane in search of Scooby, this would make Mrs. Wyatt indirectly responsible for releasing Professor Pericles and thus having a major impact on the main story itself.
In other languages
References
Community content is available under
CC-BY-SA
unless otherwise noted.