This article is about Mr. Kagawa Junior. For his father, see Mr. Kagawa (father).
This needs a stretch. (Feel free to remove when satisfied of completion.)
Needed: Physical appearance.
Mr. Kagawa ran a kimono tailor shop in Tokyo, Japan. He dressed up as the Kaniaku to exact his revenge against Mr. Uehara for taking his family's business.
Physical appearance
Insert details here.
Personality
He was deeply affected by the loss of his family's company, hiding it for many years until he dressed up as the Kaniaku to take out his revenge against Mr. Uehara and ruin his business in return. He was also intent on getting rid of the gang so they didn't uncover his plot.
Outside of that, he is similar to other people in Tokyo in that he is highly influenced about fashion trends and changes his top selling kimono at the drop of a hat. He also got starstruck of Daphne Blake right in the middle of deriding the gang for uncovering his scheme.
History
Early life
When he was a teenager, he watched his parents' seafood company be bought out by Mr. Uehara, which had been in his family for twelve generations.
Be Cool, Scooby-Doo!
Season two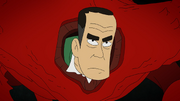 He outfitted Velma Dinkley and Daphne, with the former being free of charge since he made a new kimono based on her regular orange and red outfit, after having started a trend the previous year she was in Tokyo. But when he saw Daphne, who put hers on in a mess, and Aki's wowed reaction, he was inspired to make a whole new kimono based on it.
He was later caught as the Kaniaku in the same same seafood company his parents once owned. He planned to ruin Mr. Uehara so he could buy back the seafood company. As he was taken away by the police, he saw Daphne, who had since become a viral sensation, forgetting his anger and was raving about having seen Daphne.
Appearances
Notes/trivia
Even though Clyde Kusatsu is credited as Mr. Kagawa, Paul Nakauchi is credited for playing a tailor, with the only character who that could be is Mr. Kagawa.
Community content is available under
CC-BY-SA
unless otherwise noted.