This needs a stretch. (Feel free to remove when satisfied of completion.)
Needed: Physical appearance; clothing.
Mr. Carp was the Scottish first mate on the Sea Prowler.
Physical appearance
Mr. Carp is a Caucasian male with brown hair and a beard.
Personality
Mr. Carp was mysterious and often spoke of the bad side of everything. He appeared to be cautious enough to warn the gang and Professor Poisson about the legend, though that was merely a tactic to hide his involvement in the treasure theft.
History
The Scooby-Doo Show
Season one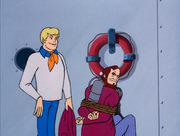 He didn't want Professor Poisson to explore the ocean in fear of them finding the treasure, so he told the legend of Captain Pescado and his sea monsters to the gang.
When the professor refused to leave the ocean and abort the mission, he, along with Mr. McFinn and McGil, left to return to port.
He disguised himself as the Ghost of Captain Pescado to scare people away so he and his pals would keep the Diablo Doro's treasure for themselves. They went diving into the shipwrecks to find the treasure, but the gang appeared, so they chased them back to the ship. They chased the gang to the ship, then dove back in. Fred used the diving bell to prevent them from returning to the ship, but they were able to use the ladder to get back up. 
They chased the gang around the ship until they got caught in Fred's trap, where Mr. Carp and his gang were unmasked.
Appearances
In other languages
Community content is available under
CC-BY-SA
unless otherwise noted.