This needs a stretch. (Feel free to remove when satisfied of completion.)
Needed: History is incomplete.

Marion Spartan is the wife of explorer Dr. Rick Spartan.
Physical appearance
Marion is Caucasian female with light blonde, shoulder-length hair, rounded bangs, pale skin, and green eyes, but, unlike her hair, her eyebrows are dark brown; later, when they were briefly separated, Dr. Spartan's photo of Marion shows her with brown hair.[1] She's usually wearing an adventurer's outfit; a low-collared, olive-green button-down dress with two pockets in front, a darker green low belt, a pair of matching gloves, and a red ascot.
Personality
Appeared to be a "damsel in distress" when she tripped and injured her ankle on a mission, but it was all part of the act allowing her to set up the fake curse. She seems kind and sweet, but unlike Rick, she hates adventuring because the jungle is so "icky," and she doesn't like having to check her back for ticks.
Skills and abilities
She has strong abs so that she was able to control the mouth of the Headless Horror costume.
History
Early life
Insert details here.
Scooby-Doo! Mystery Incorporated
Season one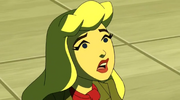 She was tired of adventuring in the jungle, which she called "icky," and hoped to scare her husband out of it. She staged the curse of the Headless Horror from when it first began. Once her husband found out the truth he forgave her and refused to press charges. (Attack of the Headless Horror)
Season two
She was not with Rick and
Cachinga
when they returned to
Crystal Cove
to help
the gang
catch the
Gluten Demon
, because Rick was putting his job over her so she had moved in with her mother. When the Gluten Demon had been caught,
Fred Jones, Jr.
told him to call her and apologize, because he had done the same with
Daphne Blake
and didn't want to lose her either. From Rick's reaction after the call it was clear that a reconciliation was beginning for the couple. (
The Devouring
)
Appearances
Notes/trivia
Marion marks the first time since What's New, Scooby-Doo? that the villain of an episode technically gets away with it.
Quotes
Marion: Fine, I admit it!!!
In other languages
References
Community content is available under
CC-BY-SA
unless otherwise noted.