This needs a stretch. (Feel free to remove when satisfied of completion.)
Needed:
* Physical appearance.
* Personality.
* History is incomplete of The Creepy Case of Old Iron Face details.
"Mama" Mione ran a cafe.
Physical appearance
She is a Caucasian female, with a big build. She green eyes, and orange hair tied into a bun. Her cafe outfit consists of a white cook's hat, light-blue shirt, brown pants, black shoes and a white apron.
Personality
She was rather grumpy, with a deep and stern voice. In addition, she was demonstrated to be short-sighted when she and her co-conspirators were so bent on their revenge on the gang that she failed to notice the presence of gas reserves near the castle that could've resulted in a more profitable venture than seeking revenge on the gang.
History
Early life
Mama Mione was the champion water skier in her youth. She had long red hair and was much thinner with curves before she retired and became the owner of her cafe before becoming a criminal gang leader.
The Scooby-Doo Show
Season three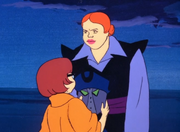 The cafe was a cover operation for her real business smuggling convicts on Skull Island, and dressed up as Old Iron Face to scare people away.[1]
Scooby-Doo! Frankencreepy
She teamed up with Cuthbert Crawls, C.L. Magnus, and Lila to get revenge on Mystery Inc., who they discovered all had a common enemy in them. She disguised herself as Mrs. Vanders, the housekeeper of Castle Von Dinkenstein. After bemoaning they won again, she was then shocked to hear from Velma Dinkley that she and her allies could had made a fortune from selling the gas, instead of taking revenge.[2]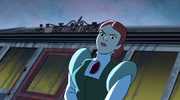 Appearances
Notes/trivia
The real identity of the Ghost of the Baron wasn't revealed, but more than likely it would've been Mama Mione.
Perhaps due to difference in animation in Frankencreepy, she's slightly more feminine than her first appearance in The Scooby-Doo Show.
In newly-created scenes for Frankencreepy, Mama Mione has black eyes, even though they are still green in the archived footage of her unmasking from her original episode. Coincidentally, it's the exact opposite for Lila.
References
Community content is available under
CC-BY-SA
unless otherwise noted.