This article is about the TV series. For the Olympic sporting event, see Laff-a-Lympics.
Making its premier on ABC from September 10, 1977 and continuing until October 28, 1978, Scooby's All Star Laff-a-Lympics, also known as Scooby's All Stars, and Scooby's Laff-a-Lympics, was full of the top stars from Hanna-Barbera. It included three teams, the Scooby Doobies, the Yogi Yahooeys, and the Really Rottens. The teams competed in Olympic style competition, in different countries for winners, and the contests were hosted by Snagglepuss and Mildew Wolf. The Scooby Doobies team consisted of Scooby-Doo, Scooby-Dum, Shaggy Rogers, Tinker and Speed Buggy, Dynomutt and Blue Falcon, Hong Kong Phooey, Babu, and Captain Caveman and the Teen Angels: Brenda Chance, Dee Dee Skyes, and Taffy Dare.
Cast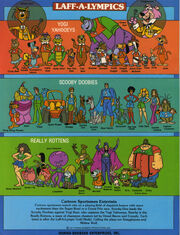 List of episodes
Main article(s): List of Laff-a-Lympics episodes
External links
Community content is available under
CC-BY-SA
unless otherwise noted.