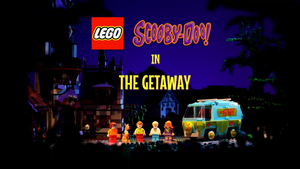 LEGO Scooby-Doo! in The Getaway is the fourth online stop motion short produced by Stoopid Buddy Stoodios, to promote the first wave of LEGO's Scooby-Doo! theme. It was originally uploaded to the LEGO Scooby-Doo! subsite on September 2, 2015.
Premise
The gang tries to make their way back to the Mystery Machine without the Mummy catching them.
Synopsis
In the museum, the gang are sneaking their way back out, trying to avoid the Mummy. Fred tells everyone to be quite as they're close to the Mystery Machine, with everyone else shushing each other one by one, which includes the Mummy! They make a run for it, driving safely away.
The Mystery Machine makes a stop once they've got far enough away, and everyone sighs a breath of relief -- only to find out the Mummy has hitched a ride! They all escape out the van, with the Mummy bidding them farewell as he drives off with it.
Characters
Main characters:
Supporting characters:
Villains:
Other characters:
Locations
Objects
Vehicles
Cast
Notes/trivia
Inconsistencies/continuity errors and/or goofs/oddities
Quotes
References
External links
Community content is available under
CC-BY-SA
unless otherwise noted.