This article is about the character from the Scooby-Doo, Where Are You! episode, A Tiki Scare is No Fair. For the character based on him in Scooby-Doo! Classic Creep Capers, see John Simms (Scooby-Doo! Classic Creep Capers).
John Simms was a journalist for a Hawaiian newspaper, who poached pearls on the side.
Physical appearance
Simms is a slender, middle-aged Caucasian male, with brown hair, a mustache, and thick framed glasses. He wears a blue suit with a dark pink and green floral Hawaiian shirt, along with a matching blue hat with a pink and green floral band. Simms also carries a camera on a lanyard.
Personality
Simms, as the Witch Doctor, does not appear to be very intelligent or perceptive (especially strange for a journalist/tour guide), as he falls for Velma Dinkley, Shaggy Rogers, and Scooby-Doo's disguises, and is also easily scared by Shaggy and Scooby covered in leaves.
History
Early life
He offered to be the gang's guide on a package tour in Hawaii; he took Scooby-Doo and Shaggy to forty-seven luaus.
Scooby-Doo, Where Are You!
Season two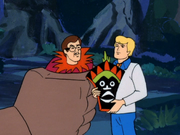 While taking Scooby and Shaggy to their forty-eighth luau, they were visited by the Witch Doctor who warned them and the villagers to stay away from the ancient village which was the sacred ground of Mano Tiki Tia. When the Witch Doctor disappeared so had Mr. Simms.
The gang investigated at the ancient village and in doing so unraveled the mystery of the Witch Doctor and the so-called Mano Tiki Tia. It was revealed that the Witch Doctor was actually Mr. Simms in disguise and Mano Tiki Tia was simply just a parade float being operated by Simms's henchman (who was also acting as the Witch Doctor who appeared at the luau). They were trying to scare the fishermen away from the village's secret underwater cave they had found and using as quick access in their pearl-poaching operation. They were then taken into custody by Lt. Tomoro, who was on their trail for months.
Appearances
Community content is available under
CC-BY-SA
unless otherwise noted.