Jebb runs an antiques store with his brother Ebb.
Physical appearance
Jebb is a middle-aged, Caucasian male with black hair. He wears a blue button-up shirt (with the sleeves rolled up) over a while t-shirt. These shirts are paired with blue denim overalls and a blue trucker hat.
Personality
Jebb is driven by greed and does not care for preserving important history or respecting the Civil War battlefield.
History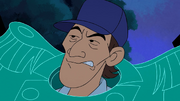 Scooby-Doo and Guess Who?
Season one
Jebb owned an antique store with his brother, Ebb. When the gang and the Funky Phantom Crew explored the store, Skip asked Jebb and Ebb about their knowledge of the Civil War Zombie Ghosts. Jebb stated that the ghosts had been seen at many of the monuments but he didn't believe in ghosts.
After the mystery solvers caught the Ghost sergeant, they found that Jebb was responsible for the attacks and was searching for lost gold at the battlefield. He used a projector to create the illusion of there being many ghosts, while he wore a costume of the Ghost sergeant. Jebb became mad at his brother for trying to stop him, since Ebb hid the treasure map in the hopes that the gold would be used to fund the upkeep of the battlefield and monuments.
Appearances
Community content is available under
CC-BY-SA
unless otherwise noted.