Cobra Kai Season 4 - The Loop
Play Sound
This needs a stretch. (Feel free to remove when satisfied of completion.)
Needed: History is incomplete.
Hong Kong Phooey is an anthropomorphic dog who fights crime with kung fu. He was also a member of the Scooby Doobies team in the Laff-a-Lympics. When doing neither of these things, he has a civilian identity called Penry Pooch, a janitor of a police station.
Physical appearance
Hong Kong is a male dog, with tan fur body, and a black nose and long, floppy ears. He wears a red and white gi, with a yellow sash, and a black sash-like cloth over his eyes, which include eyeholes for him to see.
Personality
In spite of being a Kung Fu fighter, Hong Kong Phooey is not very bright. He pays no attention to his surroundings and does not do any actual fighting. Instead, he consults his book, the Hong Kong Book of Kung Fu, and just chants nonsensical sayings. His cat Spot is usually the one who saves the day although Hong Kong Phooey doesn't know that.
History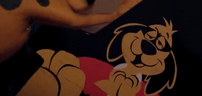 Laff-a-Lympics
Season one
Hong Kong Phooey competed in a "baseball event" in Tokyo, Japan. He was the pitcher, while Quick Draw McGraw was the batter.[1]
Scooby-Doo! Mask of the Blue Falcon
His posters were around the Mega Mondo Pop Comic Con-A-Palooza.[2]
Scooby-Doo! Team-Up
Insert details here. (Enter the Dragon, Exit Scooby-Doo!)
Insert details here. (The Ghost of Ferro Lad!)
SCOOB!
Hong Kong Phooey can be seen on a video game in the arcade.
Appearances
Appearances in other media
References