This needs a stretch. (Feel free to remove when satisfied of completion.)
Needed:
* History is incomplete.
Henry Bascomb dressed up as the Spooky Space Kook so he could scare people away from the local air force base and buy the land for little to no money.
Physical appearance
Henry is a tall, middle-aged Caucasian male with reddish-brown hair. He wore old-fashioned farmer clothing comprised of a green grandfather shirt, blue-green pants with brown suspenders, and brown work shoes/boots.
Personality
Bascomb is calculating and greedy. He attempts to profit off of insider information at the expense of his neighbors, but also doesn't think twice about terrifying them and disrupting their lives to do so.
History
Scooby-Doo, Where Are You!
Season one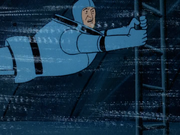 When Scooby-Doo managed to get the Spooky Space Kook trapped in an air tunnel, the costume blew off to reveal Henry Bascomb, the next door neighbor of the local farmer who first told the gang of the alien encounters.
With the input of the local sheriff, it was determined that Bascomb had fabricated the Spooky Space Kook story to terrorize residents near the abandoned air force base so that they would move away. Bascomb had learned that the base was going to be reopened. He understood that the base would need to be modified to be used with jets which require longer runways, so he tried to get control of all the nearby land so he could sell it to the government.
Scooby-Doo (DC Comics)
Insert details here. (Big House Brouhaha)
Appearances
Community content is available under
CC-BY-SA
unless otherwise noted.