This needs a stretch. (Feel free to remove when satisfied of completion.)
Needed:
* Physical appearance.
* History is incomplete.
Heather Jasper Howe was the disguise of Dr. Jonathan Jacobo, acting as the gorgeous, but manipulative newscaster of Investigative Probe. He did this to discredit Mystery Inc. After his alleged death due to his escape from prison a year ago; his plan was to use his scientific potions and skills as a theater actor to masquerade as Heather Jasper Howe in order to use the position as a newswoman to tarnish Mystery Inc's reputation and to get his revenge against them.
The disguise was also used to cover his tracks while he was already masquerading as the Evil Masked Figure. He was also in league with the unsuspecting cameraman, Ned, who also used the identity of the Evil Masked Figure when Jacobo/Heather was unable to do so.
Physical appearance
Insert details here.
Personality
She was a vindictive and manipulative woman who was determined to make the gang look bad. She coaxed Fred Jones into saying things that she would later quote out of context on the air thus making Mystery Inc look foolish and incompetent.
She also brought Daphne Blake's hopes down when she claimed that Daphne was nothing more than a pretty face good for "incoherent babbling."
History
Scooby-Doo 2: Monsters Unleashed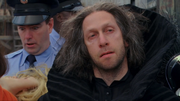 After being captured by Mystery Inc., both Velma Dinkley and Daphne unmasked the Evil Masked Figure and revealed him to be the Heather Jasper Howe. However, Velma went onto grab and stretch Heather's neck and face, revealing it to be a mask, and underneath was Dr. Jonathan Jacobo also known as The Original Pterodactyl Ghost.
Appearances
In other languages
Community content is available under
CC-BY-SA
unless otherwise noted.