Harvey Comics
(also known as
Harvey World Famous Comics
,
Harvey Publications
,
Harvey Comics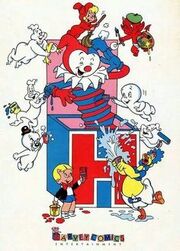 Entertainment
,
Harvey Hits
,
Harvey Illustrated Humor
, and
Harvey Picture Magazines
) was an American comic book publisher, founded in New York City by Alfred Harvey in 1941, after buying out the small publisher Brookwood Publications. His brothers Robert B. Harvey and Leon Harvey joined soon after. The company soon got into licensed characters, which by the 1950s, became the bulk of their output. Their most prolific artist was Warren Kremer. It was known for characters such as Casper the Friendly Ghost and Richie Rich. It went out of business in 1994, stopping Harvey's plans to produce original content of
Hanna-Barbera
characters they had been licensed, as they had been reprinting from
Charlton Comics
from the 1970s. The few stories they had done were passed over to
Archie Comics
.
Comics
External links
Community content is available under
CC-BY-SA
unless otherwise noted.