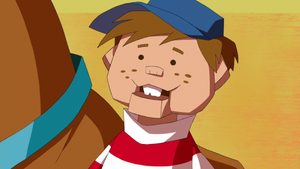 Harry is the name of a dummy that belongs to Shaggy Rogers. He became Scooby-Doo's 'new best friend' when he and Shaggy had a falling out.[1]
Physical appearance
Harry has brown hair, a red and white shirt, a blue hat, and wears blue pants with white shoes. Sometimes his hat is left off.[2]
History
Scooby-Doo! Mystery Incorporated
Season one
Scooby was angry at Shaggy for going to the prom with Velma Dinkley instead of watching the Vincent Van Ghoul movie marathon with him. After refusing to speak to Shaggy, Scooby took Harry, calling him his best friend. They started to do the things that Shaggy and Scooby normally did, including watching Vincent Van Ghoul movies and eating lots of food. This made Shaggy angry, which resulted in him getting into a fight with Harry. When the Phantom appeared in the Hex Girls' tour bus, Scooby cared more about Harry being safe than he did about Shaggy. When Shaggy used Harry to smash open a window, Scooby thought that Harry saved him and called him his hero. Fred Jones decided to use Harry in his trap for the Phantom, and it ended up getting stuck to his body. When the Phantom was caught and arrested, Harry was taken to jail with him.[1]
At some point Harry was returned to Shaggy, as Scooby was looking for Shaggy, he saw what appeared to be Shaggy under a bed sheet, but it turned out to be just Harry.[2]
Appearances
References
Community content is available under
CC-BY-SA
unless otherwise noted.