This article is about the company. For individual details, see William Hanna and Joseph Barbera.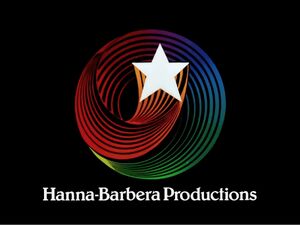 Hanna-Barbera Enterprises, Inc. was an animation studio that impacted and dominated television since it was founded in 1944, by William Hanna, Joseph Barbera and George Sidney, while they were still working at MGM Animation Studios. Also under the names of Hanna-Barbera Productions Inc., and Hanna-Barbera Cartoons, Inc., their main function was to produce films and commercials. After MGM closed their animation department in 1957, H-B went on to provide a powerful and lasting impact on television animation. Furthermore, a great many of the characters originally created by Hanna and Barbera for the small screen (including Fred Flintstone, Yogi Bear, Scooby-Doo, Huckleberry Hound, and Jonny Quest) have crossed the boundaries into film, books, toys, and all manner of other media, becoming virtually ubiquitous as cultural icons. The name Hanna-Barbera still exists under the umbrella of Warner Bros. Animation for all historic proprietary material and to market "classic" associated material (Hanna-Barbera was folded into Warner Bros. Animation in 2001, after the death of William Hanna).
Productions
TV series
TV films
Direct-to-video films
(NOTE: All of these are co-produced with Warner Bros. Animation.)
Community content is available under
CC-BY-SA
unless otherwise noted.