This article is for the monster disguise. For the cyber monster, see Gator Ghoul (Scooby-Doo and the Cyber Chase).
This needs a stretch. (Feel free to remove when satisfied of completion.)
Needed:
* Personality.
* History.
The Ghost of Gator Ghoul was believed to haunt the Hokeyfenokee Swamp, but it was really Alice Dovely in disguise.
Physical appearance
The Gator Ghoul resembled a bipedal alligator with glowing yellow eyes. In The Cyber Chase, the Gator Ghoul is a blueish green and more slender.
Personality
It had a habit of growling and hissing to scare away the Scooby gang.
Powers and abilities
Night vision: The Gator Ghoul could send out a beam of yellow light from its eyes, allowing him to see in the dark.
History
The Scooby-Doo Show
Season one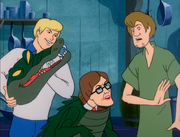 Insert details here. (TSDS: The Gruesome Game of the Gator Ghoul)
Scooby-Doo and the Cyber Chase
Insert details here. (Scooby-Doo and the Cyber Chase)
Appearances
Community content is available under
CC-BY-SA
unless otherwise noted.