This needs a stretch. (Feel free to remove when satisfied of completion.)
Needed: Physical appearance; clothing.
The foreman lives in Crystal Cove.
Physical appearance
The foreman is a middle-aged Caucasian with gray hair and sideburns.
Personality
He's a slacker, who basically gets his men to do all the work. Also, his worry over a radioactive barrel was more about it interfering with his schedule than the actual safety of the town. He wasn't particularly worried about the dangerous chemicals that could potentially contaminate either his men or even himself.[1]
History
Scooby-Doo! Mystery Incorporated
Season one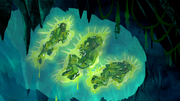 While his two subordinates worked in the sewer, he enjoyed a Fruitmeir's smoothie, which he asked if they had tried one. Suddenly, the wall he was relaxing broke apart, revealing one of the hidden caves. All three of them investigated until they found radioactive barrels. He ordered his men to open them up, which led to their dehydrated cocooning from the Slime Mutant.
During the gang's investigation, Fred Jones, Jr. stole one of the bodies from the ambulance and shoved it in the back of the Mystery Machine to be taken to Professor Emmanuel Raffalo to be studied.[1]
He was placed under Aphrodite's love spell, with the rest of the town, until an antidote was found.[2]
Appearances
Notes/trivia
When Emmanuel Raffalo faked his own cocooning, he still looked distinguishable, but none of the workers do, despite each looking distinct.
References