This needs a stretch. (Feel free to remove when satisfied of completion.)
Needed:
* Physical appearance.
* Personality.
* History is incomplete.
Don Knotts is a police officer in the town of Juneberry.
Physical appearance
Insert details here.
Personality
Insert details here.
History
The New Scooby-Doo Movies
Season one
Don conspicuously played Homer Pipsqueak, a master of disguise. He knew every "known language". His nickname was "Bulldog" Pipsqueak, when he got his teeth in a case, he never let it go. He knew tricks of the trade, and called himself a master sleuth. He told Scooby-Doo that a good bloodhound can follow the trail of someone by smelling a piece of clothing. (Guess Who's Knott Coming to Dinner)
Don appeared as himself, a police officer for the town of Juneberry. He seemed to try to take his job seriously but was a bit clumsy, as he got his RPM gauge and MPH gauge mixed up, and had forgotten the bullets for his gun. He was a bit of a coward, hiding from the spooky fog and hiding in a haystack with Shaggy and Scooby. He didn't know how to swim, when the gang was led into the flooded cave by the Skeleton Man. (The Spooky Fog of Juneberry)
Apocryphal
Johnny Bravo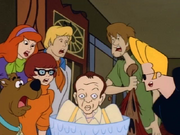 His likeness appears as one of Aunt Jebidisa's many disguises underneath the Ghostly Gardener costume. (Bravo Dooby-Doo)
Appearances
Notes/trivia
In other languages
Community content is available under
CC-BY-SA
unless otherwise noted.